Communities:

Lone Pine, Ca
Population: 1,655
Elevation : 3,733 feet
Lone Pine Area Photo Tours
Alabama Hills
The Alabama Hills gather their name from a Confederate warship responsible for wreaking havoc to northern ...

Dirty Sock Springs There are several weak theories, but once you have spent a little time there you will find ...

Olancha Dunes
Shifting sands at the southern end of Owens dry lake make up the ...

Dolomite ... named after the mineral which is still being mined there.

Cartago In the 1870's bullion bars from Cerro Gordo mines were hauled across Owens Lake on the ...

Fossil Falls
The rugged landscape is a result of several periods of volcanism dating as far back as 440,000 years ago ...


Fossil Falls Wildflowers The effect on the whole of the landscape is subtle. Tints and flashes of yellow, purple and white streak on the ...

Keeler
Keeler was built to compete with Swansea as a smelting operation and port for shipping silver and lead from ...


Keeler Smelter
Smelters were used to "roast" the silver ore into bullion. From the smelter at Keeler the silver/lead was ...


Keeler Cemetery A small graveyard near Keeler ghost town on the north shore of Owens lake.

Cottonwood Charcoal Kilns
In 1873 Colonel Sherman Stevens built a sawmill and flume on Cottonwood Creek high in the Sierras. The lumber from the ...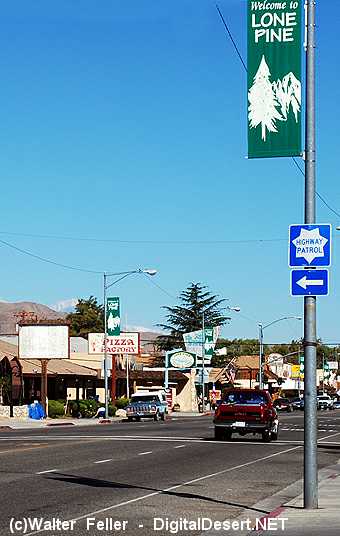 SUV Route Guides

Route 1 - Cerro Gordo
THE RICH SILVER MINES OF CERRO GORDO, HIGH IN THE INYO MOUNTAINS, TRANSFORMED THE PUEBLO OF LOS ANGELES INTO A BUSY ...

Route 2 - Alabama Hills
BIZARRELY-SHAPED BOULDERS AND PINNACLES OF STONE; BEHIND THEM THE SNOW-CAPPED PEAKS OF THE HIGH SIERRA ...

Route 3 - Whitney Portal
THE TOP OF THIS ROAD IS BASE CAMP FOR THOSE WITH PERMITS TO CLIMB TO THE HIGHEST POINT IN THE ...