Joshua Tree National Park
Roadside Interpretations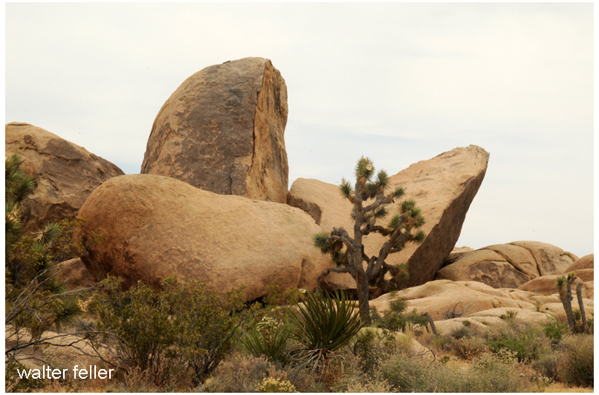 Roadside interpretations of the natural history of Joshua Tree National Park
Barren or Bountiful
Look around you. Perhaps you see a stark land that nature never quite got around to ...
Mojave Symbol
Bristling with dagger-shaped leaves, the Joshua tree's upraised branches impressed ...
Tree of Life
The Joshua tree is to the Mojave Desert as the giant saguaro cactus is to the ...
A Distinguished Yucca
If you are not familiar with the desert, you may not yet distinguish the Joshua tree ...
The Adventurous Yucca
As you look at this wide expanse of Joshua trees (Yucca brevifolia) you can see how ...
The Bighorn's Domain
Imagine scrambling atop these rock hills to escape danger. Desert bighorn sheep do, ...
Desert People
We tend to think 50 or 100 years is a long time. And we see things as being the way ...
The Contact Zone
It's our tendency to view the Earth as unchanging and static. But here engraved upon ...
A Desert Forest
Here, the Joshua tree is unrelated king. Tall representative of the lily family, with ...
Woodland Bounty
This patch of woods, dominated by pinyon pine (Pinus monophylla), is a glimpse of ...
Rock Piles
This rock pile was once a solid mass of granite- monzogranite. It formed ...
Hidden Life
The desert is often thought of as lifeless or sterile. It is far from it. Even ...