Joshua Tree National Park - Mojave Ecozone:
Geology Tour Road:

Stop #11
Debris Flows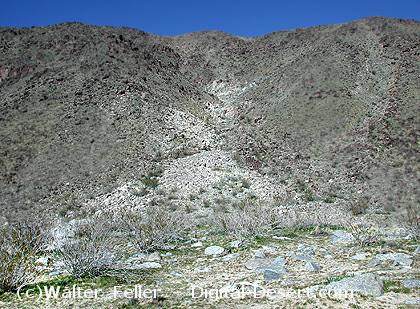 Debris flow

Occuring at the mouth of this steep canyon in the Hexie Mountains, are irregular mounds of gneiss debris lacking a coating of patina. This lack of patina indicates more recent flows, not yet resulting in a debris fan. During heavy rains, the debris becomes saturated and oozes toward lower ground. As materials from higher up in the canyon wear down, a debris fan may develop, then possibly, over a long period of time an alluvial fan.

PREVIOUS - NEXT


Also see:
Death Valley Geology: Alluvial Fans
Dumping debris: Eventually the rock-laden torrent reaches the narrow canyon mouth. Water rushes out of the canyon into ...
Clickable map