Joshua Tree National Park
Backcountry Roads
Pinkham Canyon Road
Challenging 20-mile road begins at Cottonwood Springs Visitor Center, travels along Smoketree Wash, and then cuts down Pinkham Canyon. Sections of the road run through soft sand and rocky flood plains. The road connects to a service road next to I-10.
Black Eagle Mine Road
Beginning 6.5 miles north of Cottonwood Springs Visitor Center, this dead-end dirt road runs along the edge of Pinto Basin, crosses several dry washes, and winds through canyons in the Eagle Mountains. The first nine miles are within the park boundary. Beyond that point is the Bureau of Land Management land and a number of side roads.
Old Dale Road
This 23-mile roads starts at the same point as Black Eagle Mine Road. The first 11 miles, cross Pinto Basin, a flat sandy dry lake bed. Leaving the basin, the road climbs a steep hill, then crosses the park boundary. The road leads to State Hwy 62, 15 miles east of Twentynine Palms.
Queen Valley Roads
A network of roads, totaling nearly 14 miles, crosses this valley of boulder piles and Joshua trees. A bike trip can begin at Hidden Valley or the dirt road opposite the Geology Tour Road. Bike racks have been placed in the area so visitors can lock their bikes and go hiking.
Geology Tour Road
An 18-mile motor tour leads through fascinating landscapes. The road turns south from the paved road 2 miles west of Jumbo Rocks Campground. There are 16 stops and it takes approximately 2 hours to make the round trip. The distance from the junction to Squaw Tank is about 5.5 miles. This section is mostly downhill but bumpy and sandy. Starting at Squaw Tank, a 6-mile circular route explores Pleasent Valley.
Covington Flats
The dirt roads in Covington Flats offer access to some of the park's largest Joshua trees, junipers and pinyon pines. From Covington Flats picnic area to Eureka Peak is 3.8 miles one way. The dirt road is steep near the end, but offers views of Palm Springs, the surrounding mountains, and the Morongo Basin.
Berdoo Canyon Road
Connecting the south end of Geology Tour Road with Dillon Road, this 4-wheel-drive road requires a high clearance vehicle. Berdoo Canyon Road exits the park after 11.5 miles (18.4 km). The last 3.9 miles (6.24 km) to Dillon Road winds past the ruins of the Berdoo Camp, which was established in the 1930s by the builders of the California Aquaduct.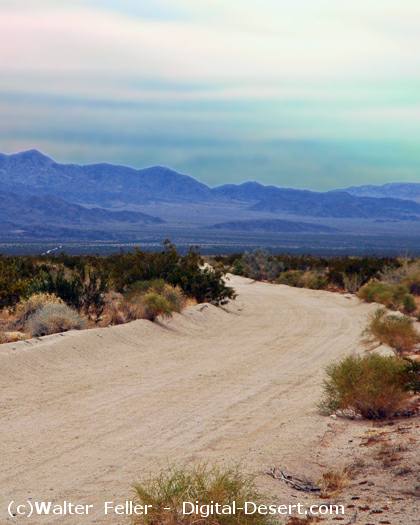 Old Dale Road