Lake Mead - Hoover Dam
Ecology of Hoover Dam
Fishing in Lake Mead and the Colorado River
STRIPED BASS


Bait: anchovies, shad, and lures at different depths (seasonal). It is found in the Overton Arm, Las Vegas Bay, and Temple Bar.
BLUEGILL


Bait: minnows, worms, insects, crayfish, flies (wet or dry), and popping bugs. The "big ones" live near the canyon walls.
RAINBOW TROUT


Bait: cheese and marshmallows. This trout likes deeper levels and cold water.
LARGEMOUTH BASS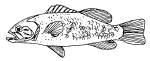 Bait: night crawlers, minnows, and lures. Largemouth bass are more active at dawn and dusk and prefer weedy areas and shoreline.
CHANNEL CATFISH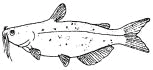 Bait: natural or prepared stink baits. They can be identified easily by their large whiskers. Bottom fishing is best at day or night.
THREADFIN SHAD


It is usually found in pools along the edges, usually around mud, sand, and debris. This small fish is used for bait.
SUNFISH


Its body is short, stocky and narrow. It lives in vegetated lakes and muddy rivers. Bait: night crawlers, red worms and small lures.

Previous - Next