Wagon Roads
Coso Mines Road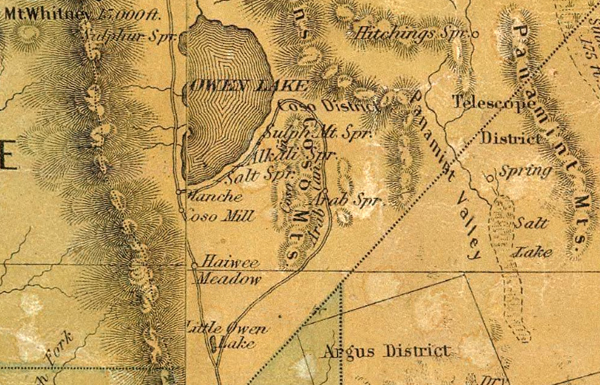 Bancroft (1868) shows the road to the Coso Mines, developed beginning in 1862 with the discovery of the silver mines at the north end of the Coso Range. There was a trail leading northeast from the Little Lake stop on the main road, heading around the southern tip of the Coso Mts., eventually turning westerly again at the northern end of the same mountains and skirting the southern shore of Owens Lake. Ores from the Coso Mines were taken by pack train and wagon to the Coso Mill (#89 above) for processing.

Places marked on Bancroft's map are:

94. Arab Springs
95. Sulphur Mountain Spring
96. Alkali Spring
97. Salt Spring

All of these will require further research to identify and locate on today's maps.

98. The road led through what Bancroft called "Arab Canyon," just east of the Coso Mountains. This is probably the northern extension of today's Cole's Flat.

99. Coso mining camp of ca. 1862 was named on Bancroft's map, but it is difficult to locate on it. It is on modern maps inside the Naval Ordnance Range.

100. Darwin, discovered 1874, Old Coso Road extended north from Coso to Darwin, and west to Olancha and Coso Mill Road. Cerro Gordo Freight Company hauled silver bullion from this camp (Nadeau 1965b, pp. 194-5). Town named for Dr. E. Darwin French, who had explored region in 1860 and named Darwin Wash (Gudde).