Panamint Springs Area
Father Crowley Viewpoint
PS1. Location/Access:
(36o 21.280'N, 117o 32.479'W) The viewpoint is located 8.3 miles west of Panamint Springs, just off of CA 190. After making the turn at the Father Crowley Monument, continue east along the dirt road for about 0.5 miles.

Best Time: Mid- to late afternoon, all year.



Geology: This is a good place to view the northern Panamint Valley, the west side of the Cottonwood and northern Panamint Mountains and the local rocks of the Santa Rosa Plateau area. The transverse Panamint Dunes (built by southerly winds) can be seen at the north end of the valley floor. The Panamint Valley has two playas. The northerly one is cut by CA 190 and is traversed when one travels between Panamint Springs and Stovepipe Wells. Playa scrapers (Site CM2) have also been reported from this playa surface. Beyond the dunes lies Hunter Mountain (Site CM4) which is composed of the Jurassic Hunter Mountain pluton. To the right of Hunter Mountain lies Panamint Butte and it is composed of folded and faulted late Paleozoic rocks which are covered by Pliocene age basalt. Directly north in the foreground is Rainbow Canyon where the late Pliocene basalts overlie folded Paleozoic rocks. A little farther down the canyon (2.6 miles) from this point, these relationships are much clearer (Miller & Wright, 2004, p. 103).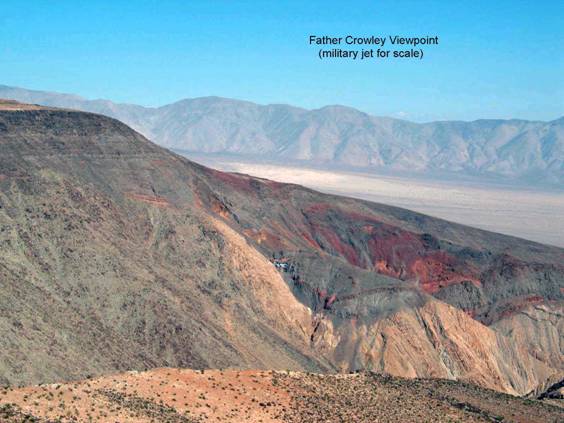 Desert Gazette Book Store