Geology:
Death Valley Region Geology Guide
Devilís Hole
O1. Location/Access:
(36o 25.509íN; 116o 17.485íW) Devilís Hole is located within a separate unit of Death Valley National Park in Nevada just east of the California state line northeast of Death Valley junction. To get there from Furnace Creek, go east on CA 190 30 miles to Death Valley Junction (with CA 127).Turn south on CA 127 for 0.1 miles and then turn east on State Line Road. After 7.1 miles, turn left (north) on a gravel road. Go 4.3 miles and then turn right and go another 1.3 miles. Devilís Hole lies against the base of the small hill and is well marked and fenced in.

Best Time: Anytime, all year.



Geology: Devilís Hole is one of the more famous sites within Death Valley National Park, especially among environmentalists. Devilís Hole is a solution pit within the Cambrian Bonanza King limestone (Cornwall, 1972; this is a good geologic map of the Nevada sections of Death Valley National Park). The hole itself is about 70 feet long and 35 feet wide. The water surface is about 50 feet down and the depth to the bottom of the cave is at least 365 feet. The location of the hole seems structurally controlled by a fault that strikes about N 40o E and is nearly vertical (Winograd and Thordarson, 1975). The water level fluctuates with precipitation, evaporation, barometric pressure, tidal forces and pumping from farms to the northwest (Dudley and Larson, 1976). This concern for the water levels was triggered in the 1970ís by a concern for the continued viability of the Cyprinodon diabolis, the species of pupfish that lives in this most restrictive environment. As of 2006, the fish are perilously close to extinction despite stabilized water levels. After nearby Yucca Mountain was proposed for a major nuclear waste site, Devilís Hole became even more significant as groundwater contamination from such a waste disposal site might leak through to here and other significant groundwater resources throughout the Death Valley region. There have been innumerable research papers on the potential effect of this activity. Nearby, Point of Rock Spring and Crystal Reservoir are also worth a visit. There has been a great deal of reclamation of this area (especially the removal of non-native vegetation) as Devilís Hole is now surrounded by the Ash Meadows National Wildlife Refuge. As a result, natural groundwater flow is returning to the area, especially at Point of Rocks Spring.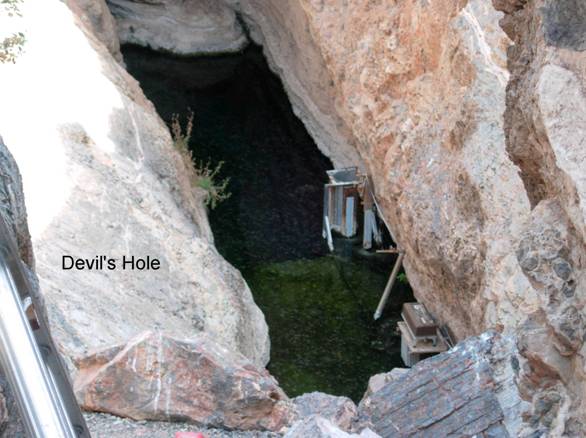 Ash Meadows
National Wildlife Refuge

Warm water from underground bubbles up through sand into clear spring pools. Silvery blue pupfish dart between swaying strands of dark green algae. Pebbled streams gurgle from hillside springs, sheltering snails smaller than ...

Note: Recieved 8/31/11

Nice description!
One correction is in order, however: Devils Hole is not a "solution pit", as you state in Geology section. Rather, it is an extensional tectonic fracture, further enlarged by collapse of the roof. In other words, it is NOT a karstic cave: the latter forms through dissolution of carbonate rock, for which aggressive water is needed. At Devils Hole, in contrast, water has always been super-saturated with respect to carbonate, and have been depositing calcite on the fracture walls continuously over the last 560,000 yrs. Sincerely, Yuri Dublyansky