Sand Dunes - Featured Death Valley Geology:
Death Valley Sand Dunes
Many first time visitors to Death Valley are surprised it is not covered with a sea of sand. Less than one percent of the desert is covered with dunes, yet the shadowed ripples and stark, graceful curves define "desert" in our imaginations.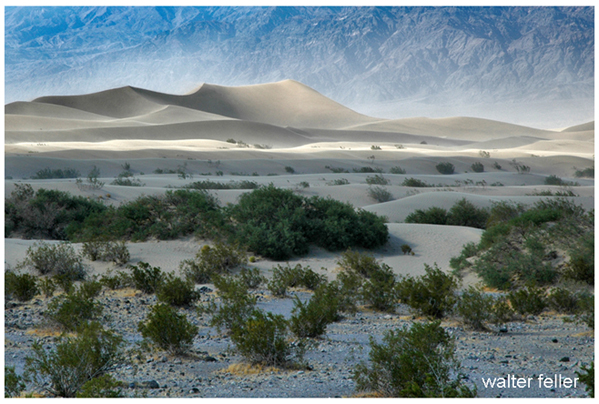 For dunes to exist there must be a source of sand, prevailing winds to move the sand, and a place for the sand to collect. The eroded canyons and washes provide plenty of sand, the wind seems to always blow (especially in the springtime), but there are only a few areas in the park where the sand is "trapped" by geographic features such as mountains.
Mesquite Dunes
Winds blowing through Death Valley are slowed here at the Mesquite Dunes by the changing shape of the valley and towering Tucki Mountain. ...
Eureka Dunes
Eureka Dunes rise nearly 680 feet above the valley floor in northern Death Valley National Park. The dunes cover an area 3 miles long and ...
Saline Valley Dunes
Gently rippling up from the edge of salt flats, these low dunes cover a large area, yet go unnoticed by most visitors to this ...
Panamint Dunes
Travelers crossing Panamint Valley on Hwy.190 may view these dunes as a distant, pale smudge to the north. Those wanting a ...
Ibex Dunes
Visitors to Saratoga Springs may notice these dunes, but they are shielded from paved roads by rocky desert hills. Hike about ...

Also see:
Geology of Sand Dunes