Springs & Oases - Joshua Tree National Park
49 Palms Oasis
Archive - circa 2006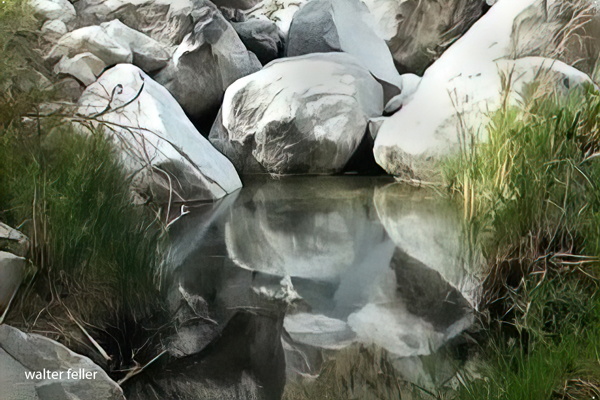 Water rises into pools formed by large boulders in a steep and narrow canyon. Fan palm trees shade the pools as the water slowly slips between giant stones as it makes its way back under the sandy soil further downstream.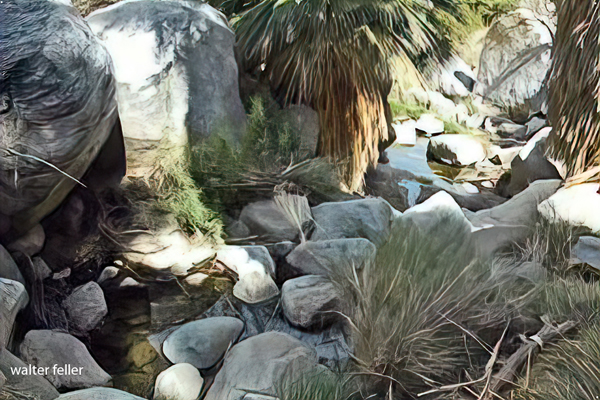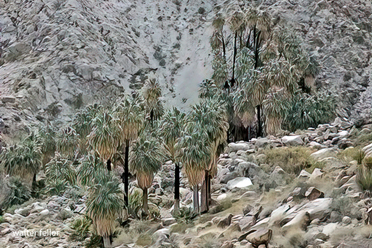 Hikes in Joshua Tree
3 miles - hiking time: 2-3 hours

Starting point: Parking area at end of Canyon Road, 4 miles west of Twentynine Palms off Hwy 62.

Description: Several stands of fan palms, evidence of past fires, and pools of water are found at the oasis. The plants in this area are especially fragile, so walk lightly.

Difficulty = Moderately strenuous.

Note: There is a 300' gain in elevation from the parking lot to the high point along the trail. The trail then loses nearly 300' on the way to the springs, therefore, coming back out there is again a 300' gain, then drop in elevation.


Also see:
California Fan Palm Habitat
Structure-- All natural or naturalized plant assemblages that include California fan palms are recognized as Palm Oasis habitats, cultivated stands of California fan palm are not considered Palm Oasis habitats.
Fan Palm Oases in Joshua Tree
In an otherwise hot and sparse environment, palm oases provide the luxury of shade and coolness. The oases require a constant supply of water, so they will occur along fault lines where hard rock forces water from underground to the surface. There are 158 desert fan palm oases in North America. Five are located in Joshua Tree National Park. ...
Desert Springs & Oases
A spring is the result of an aquifer being filled to the point that the water overflows onto the land surface. There are different kinds of springs and they may be classified according to ... Ecosubsection:

While within the defined northern end of the boundary of the Pinto Basin and Mountains ecosubsection, the transition at the base of the mountains to the Lucerne - Johnson Valleys and Hills ecosubsection is abrupt.
Pinto Basin and Mountains
... the Pinto Mountains which are along the east-west Pinto Mountain Fault that is the northern boundary of the subsection. ...
Lucerne - Johnson Valleys and Hills
This section is on steep mountains, moderately steep hills, very gently to moderately sloping pediments and alluvial fans, and nearly level basin floor and dry lake bed. ...