Raptors
Characteristics of the Different Raptor Families
Hawk Families
Eagles
Large bodied raptors, mostly dark brown in color with long, broad wings, and fan-shaped tails.


Have large, strong feet and a powerful beak.


Often spotted soaring high and gliding.


Two species widespread throughout North America, the bald eagle and the golden eagle.


The bald eagle has been America's national symbol since 1782; the bald eagle is unique to North America.


The average wingspan of an eagle can vary from six to seven feet.


The adult bald eagle appears very different from immature eagles, it has a distinctive white head and white tail and a bright yellow beak. These distinguishing bald eagle features do not start to appear until after the fourth year molt and may take 7-10 years to achieve full adult plummage


Bald eagles usually live near water (oceans, rivers, lakes), while golden eagles live in open, mountainous country.


Eagles nests are very large, measuring up to six feet wide and weighing 100 pounds; many nests are used repeatedly year to year.


Eagles may roost singly or in groups exceeding 100 birds.


< Previous - Contents - Next >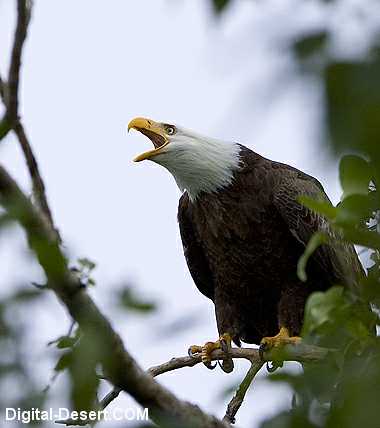 Bald Eagle - USFWS photo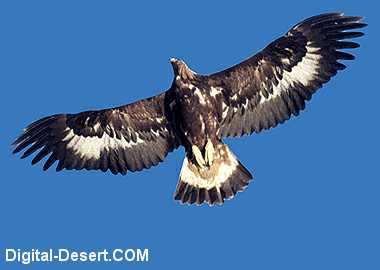 Immature Golden Eagle - USGS - M. Kochert