Northern Mojave Desert
Searles Valley
Trona Pinnacles

This eerie, fantastic landscape is one of the most unique geological features in the California desert. These other-worldly shapes are ...

Trona

Trip through downtown Trona

Argus

I like the name. Argus, West End, Boroslovay and points south

Pioneer Point

Valley wells water dissapoints pioneers exiting Death Valley

Searles Dry Lake

The trona comes from deep beneath the lakebed

Ruth Mine

In 1899, Doug Graham and Smiley Jones found some gold float in the canyon, followed it up to the source and founded the ...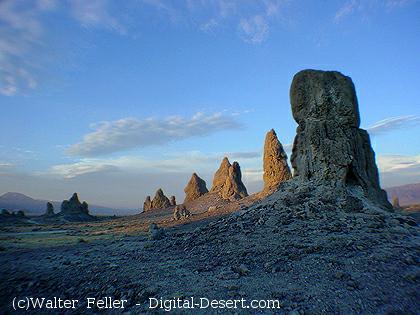 Searles Valley - Owlshead Mountains
322Af - This subsection includes the Slate Range, El Paso Mountains, Quail Mountains, Owlshead Mountains, southern ends of the Argus and Panamint Ranges, Searles Valley, ...
Argus-Slate Range Mining History
John and Dennis Searles came from New York in the 1849 California gold rush and settled near Oroville. In the spring of 1860, Dennis Searles left with a ...