click the photo to continue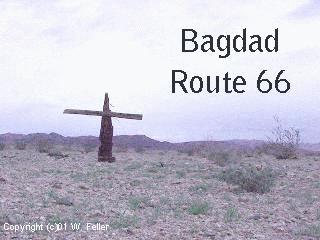 Route 66 > Bagdad
Ghost Towns - East Mojave Desert

Next Photo

At one time Bagdad was a busy little community, but as many others along Route 66, it went bust as the interstate came into use. In 1991 the remaining school house and other buildings were demolished to make room for a supply yard for a pipeline being built in the area. All that remains is the rail siding, a tree, some broken glass and a lonely cemetery.