Recreation - Off-Highway Vehicle Recreation Areas:
San Bernardino County
Johnson Valley Off-Highway Vehicle Area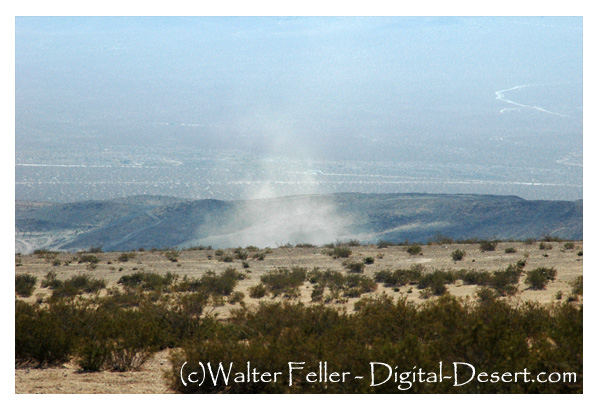 Johnson Valley is a varied landscape for the off-highway vehicle driver. It is punctuated by steep red rocky mountains, rolling hills, open valleys, dry lake beds and sandy washes. Elevations range from 4,600 feet at Hartwell Hills to 2,300 feet at Melville Dry Lake. Vegetation consists of creosote scrub, annual grasses, wildflowers and Joshua Trees.

Access:
The riding area can be entered from Highway 247 at Old Woman Springs Road or Camp Rock Road, 55 miles southeast of Barstow. Most visitors access the area off Camp Rock Road by driving north off of Highway 247. Staging for many competitive events is at Anderson Dry Lake, 10 miles north of Highway 247 and east of Camp Rock Road. These are graded dirt roads.

Activities:
Most visitors tour the area in four-wheel drive vehicles. The area near Anderson Dry Lake and Soggy Dry Lake is used extensively for competitive racing events and OHV free play. There are numerous opportunities for hiking, rock hounding, and wildlife watching. The eastern boundary is shared with the Twentynine Palms Marine Air-Ground Combat Center. DO NOT enter this area.

Johnson Valley offers a riding opportunity for every skill level. The Southeast portion of the riding area offers a large mass of hills known to rock crawlers world wide as the "Hammers." This area is for experts and has gained the attention of off-roaders in recent years through an event called "King of the Hammers" Experts only need apply. North of the Hammers offers a quality riding experience for novice and intermediate riders and some small dune riding experience. There are two car/truck cources for racing in the north central and western portions of the valley and offers four events each year. Anderson Dry Lake on the western boundary of the area is used for casual riding for intermediate and novice riders. It is also used extensively as a staging area for competitive motorcycle events. Cougar Buttes has many uses and is a very popular with off-roaders. The butte boast areas with small rolling hills for the novice, rocky ridges for the more experienced riders, huge rock structures for the rock crawlers and is a popular place for motorcycle trials events. The 188,000 acre of-highway vehicle riding area has something for every rider at every skill level.

Helmets are required on all ATVs! Also, there are no passengers allowed on ATVs.

All vehicles must have a muffler or spark arrester and have either a street-legal license or be registered as an off-highway vehicle.

Vehicles being operated at night must have head and tail lights.

SHOTGUN SHOOTING ONLY IN THE JOHNSON VALLEY OHV AREA! No pistol or rifle shooting allowed!

The desert tortoise lives here and is a federally protected species. Please do not handle or disturb these animals.

Camping is allowed anywhere within the riding area that does not block travel on a road and is limited to 14 days.

Possession or use of pallets or wood containing nails is prohibited (43 CFR 8365.1-6).

Note: Possesion or use of any glass container used to carry any liquid for drinking purposes is prohibited. (43 CFR 8361.1-6)

Do not burn pallets or wood with nails!