Water - Joshua Tree National Park: Hiking Trails
Lost Palms Oasis
Click the photo to view the gallery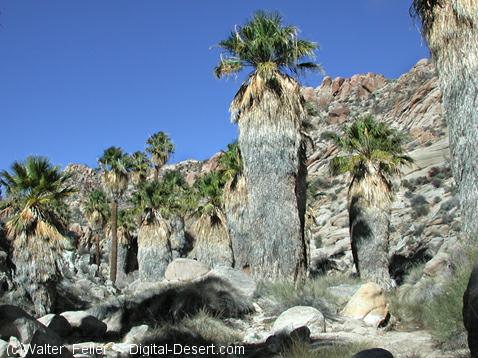 Lost Palms Oasis is a native fan palm oasis with over 110 palm trees. The trees are located in a deep canyon with steep walls of quartz monzogranite. The palms are fed by an underground spring, of which several small pools of water are spread out through the oasis. The canyon is an ideal habitat for Desert Bighorn sheep.

Hiking info:
7.5 miles - hiking time: 4-6 hours
Starting point > Cottonwood Spring
Description: A canyon with numerous palm stands. A side trip to Victory Palms and Munsen Canyon involves boulder scrambling.
Difficulty = Moderate to oasis overlook then strenuous.
Photo Gallery

Also see:

Desert Habitat > Fan Palm Oasis

Plants > Trees > California Fan Palm