Joshua Tree National Park - Nature Trail
Hidden Valley
Nature Trail
1 mile loop interpretive trail beginning in the Hidden Valley picnic area.
The Lure of Hidden Valley

Naturalist Peggy Larson calls the desert "a mosaic of miniature worlds." The desert can be a ...

The Opening of Hidden Valley

Local lore has it that the valley was used by horse thieves to hide horses during the great horse ...

A Relict Population

The Mojave Desert as we know it is probably less than 10,000 years old. Before that, ...

The Pinyon Pine

Found mostly in the mountains of the Mojave and western Great Basin deserts, the single-leaf ...

Scrub Oaks and Chipmunks

Muller's oak, Quercus cornelius-mulleri, is one of a number of oaks found in the pinyon belt of ...

Humans and the Pinyon Pines

The pinyon pine was one of the most important plants used by desert Indians. To collect the ...

Introduction of Exotic Species

The high desert was once a draw for cattlemen and Hidden Valley combined lush bunch grasses ...

Mountain Quail

The mountain quail, identified by their long straight black head plumes, are found mainly in higher ...

Pinyon Jays

The seeds of many pines are winged and can be carried on the wind. The wingless pinyon seed ...

Rock Formation and Rain

The large granite rocks around Hidden Valley act as giant water collectors. Rainfall runs off ...

Loopholes for Lizards

The cracks in the rocks provide homes was well as a quick getaway for lizards and snakes. You ...

Yuccas and Nolinas

The thick-leaved Mojave yucca (Yucca schidigera), was not a main food source for desert ...

A Transition Zone

Looking around the Hidden Valley you can see a number of other plants species, such as the ...

Conclusion

Hidden Valley has long been a magnet for many species of plants and animals, as well as ...
Campground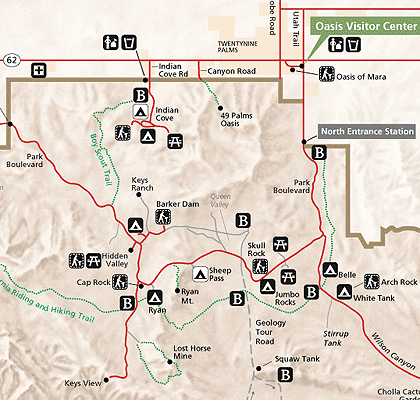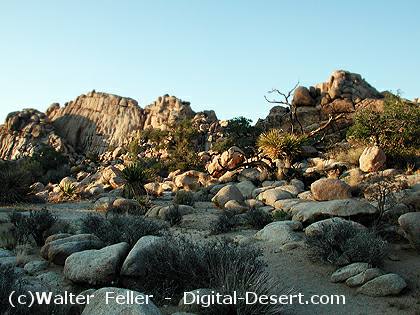 The sun gets low at Hidden Valley