Geology:
Death Valley Region Geology Guide
Southern Central Region (SC)
Sites SC1-8 can be found in the southern part of Death Valley and in the area immediately west in the southern portion of the Panamint Mountains. Site SC1, Ashford Mill and Shoreline Butte is well marked, on the main paved road and thus serves as a good point of geographic reference from which to calculate distances and locations. Site SC2 is also on the main southern road and thus also easily accessible (but may be the most geologically complex and confusing part of Death Valley). Site SC3 is visible from the highway and is accessible by most vehicles as long as the Amargosa River isnít running. Site SC4 is quite a few miles up Warm Springs Canyon but is accessible with a high clearance vehicle. Site SC5, a truly lovely mountain valley, is quite remote and a portion of the road beyond Site SC4 has been extremely rough for many years. Thus four-wheel-drive is required for access to Site SC5. These sites offer a great variety of geology from mining to Pleistocene features to current and past tectonic processes.
SC1. Ashford Mill & Shoreline Butte

The Ashford Mill processed gold for a very brief time in the early 1900ís. The source was a mine in the southern Black Mountains to the ...

SC2. Amargosa Chaos

For professional geologists, this is one of the most famous geologic locations in the world. Although completely obscure to ...

SC3. Split Cinder Cone

Split Cinder Cone composed of middle Pleistocene basalt that has been eroded. The fact that it has obviously been ...

SC4. Warm Springs Talc Mines

The Warm Springs talc mines are the most recently active talc mines in the area and were a major U.S. supplier of talc until ...

SC5. Butte Valley

The dramatic butte in the center of the valley is composed of up-tilted beds of the Permian Butte Valley formation which are of ...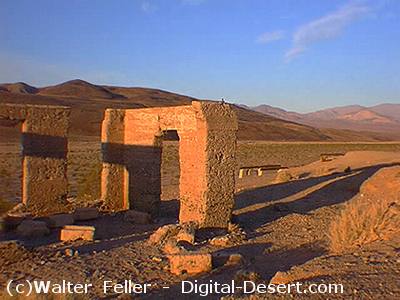 Ashford Mill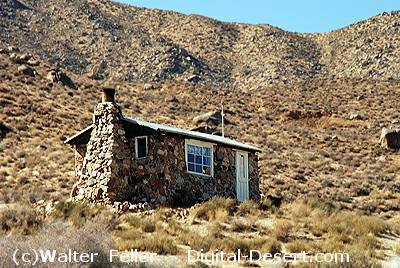 Geologist's Cabin - Butte Valley

Ecology:
Death Valley
This subsection contains predominantly nearly level lake plain and basin floor and gently to moderately sloping alluvial fans. There are some moderately steep slopes on upper fans ...



Desert Gazette Book Store