--

Day Hikes in Death Valley
Salt Creek Trail
Interpretive Trail

Length : .5 mile round-trip.

Difficulty : easy

Description : Boardwalk along small stream. Good for viewing rare pupfish and other wildlife. Best in late winter/early spring.

Start : Salt Creek parking area, 1 mile off Hwy 190 on graded gravel road 13.5 miles north of Furnace Creek.

Also see:
Salt Creek Photos

At the bottom of Cottonball Basin runs Salt Creek, home of the ...

Salt Creek

Salt Creek is a small, short permanent stream with highly variable discharge that has its origin in springs ...

Pupfish - Death Valley Wildlife

Tiny pupfish are ther remnants of- and living clues to- Death Valley's once wetter past. ...

Desert Creeks & Streams

Creeks and sreams are smaller than, and often tributary to a river, and may be intermittant.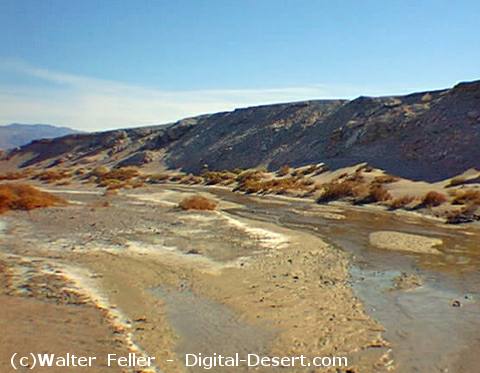 Salt Creek

--