Death Valley History - Desert Indians:
Prehistoric Cultures in the Death Valley Region
Lake Mojave Period, 10,000-5000 B.C.
Claims have been made for archeological assemblages dating to times earlier than the Lake Mojave period, but all are debatable and have little or no known relationship to later cultural developments in the Mojave Desert. However, the Lake Mojave complex, which is considered to be a Paleo-Indian assemblage by most archeologists, is also thought to be ancestral to the early Archaic cultures of the Pinto period.

Sites of the Lake Mojave period are nearly always limited to the surface, and it is possible that two or more assemblages are represented at some of these sites. Many of the sites are associated with shoreline features of Pleistocene lakes, such as the shorelines of extinct Lakes Mojave and Manly, and near springs. While some scholars have postulated that the cultural assemblages of the Lake Mojave period were the remains of a widespread generalized hunting adaptation in pursuit of large mammals, others have argued that they are associated with a more specialized adaptation to lacustrine resources of the pluvial lakes or with a more generalized hunting and collecting economy for this early population in which the lakeside sites represented a "marsh orientation" during a portion of the seasonal round.

(source - NPS)


Changing Climates & Ancient Lakes
The impact of both long-term and short-term climatic oscillations can be seen on the landscape. Glaciation periods lasting many thousands of years have happened repeatedly throughout ...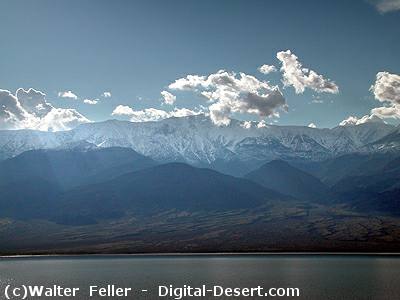 Lake Manly w/water - Death Valley