The Geology of Sand Dunes
The Nature of Sand
Sand is defined by its size, although exact quantitative ranges vary with author. Bagnold defines sand as any particle between .02 mm and 1.0 mm in diameter, while Ahlbrandt (1979) uses the range of .1 mm to 1.6 mm. Despite discrepancies in quantitative definition (which is often due to grain-size differences in the individual dune fields studied by each researcher), the authors agree that sand is qualitatively defined as any particle that is light enough to be moved by the wind but too heavy to be held in suspension in the air. Very fine particles that can be held in suspension are therefore classified as silt or dust, while heavier particles unaffected by wind are classified as pebbles or gravel (Bagnold, 1941; Cooke and Warren, 1973).

Neither mineral composition nor particle shape appears to have any significant effect on sand movement or accumulation. Any solid, non-cohesive particle, natural or human-made, that falls within the above-mentioned range is technically sand, including dry granular snow which can build up into dune-like drifts. While sand can be composed of various minerals, quartz makes up the bulk of the world's sand grains. This dominance is primarily due to the widespread distribution of quartz-containing rocks and to the chemical nature of quartz. Unlike other particles, quartz sand grains resist both mechanical and chemical breakup into smaller sizes (Bagnold, 1941).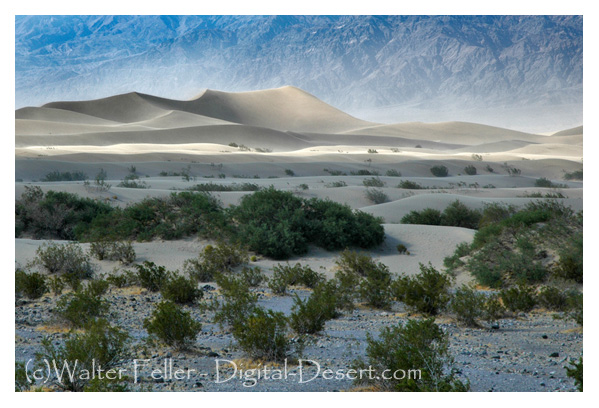 Mesquite Flats Dunes, Death Valley

While wind plays the major role in sand accumulation, the actual erosion of rock material into sand-size grains is primarily due to the action of water and ice (Bagnold, 1941). Wind does play a role in the abrading and rounding of sand grains, which results in inland dune fields having more rounded grains than coastal dunes, due to the increased distance of movement by wind (Ahlbrandt, 1979).

Sand composing inland dune fields generally varies more widely than coastal-dune sand in both grain size and degree of sorting due to the greater variety of sources for inland-dune sand and the varying distances from source to dune field. Source areas for inland sand seas include lake deposits, river deposits, alluvial fans, playas, glacial till, and sandstone bedrock (Ahlbrandt, 1979).
Wind-induced Sand Movement