Wagon Roads
Tehachapi Pass, Tehachapi Range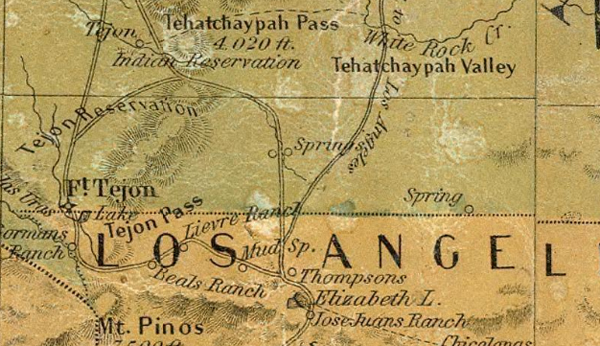 (Garces 1 Sierra de San Marcos, Coues, p. 270). Many variant spellings. Modern name reverses the vowels; former names are all variant spellings of Taheechapay.

There are actually two routes to this pass both once known by this name. The railroad, using the northerly branch of the pass, has caused its pass to be known in modern times as the Tehachapi Pass. An equally well travelled wagon road and trail of the pioneer period was the southern branch. The early, southern route is shown on the Bancroft map of 1868.

F1 The northerly route known by this name, used by the railroad, is drawn on the Rand McNally map of 1876. The northerly route leads in from the Mojave Desert at Tehachapi Pass on the Cache Creek drainage. Both direct entry from the desert, and entry via Cache Creek to the north (see above, Slate Range Road variant) were feasible.

F2 The southerly route headed more directly toward Willow Springs from Tehachapi town, via the Oak Creek drainage. This route is well marked on the Bancroft map of 1868 and the Farley map of 1862.