Geology:
Rocks, Minerals & Ores: Metallic Oxides
Galena
PbS
Pritcher, OK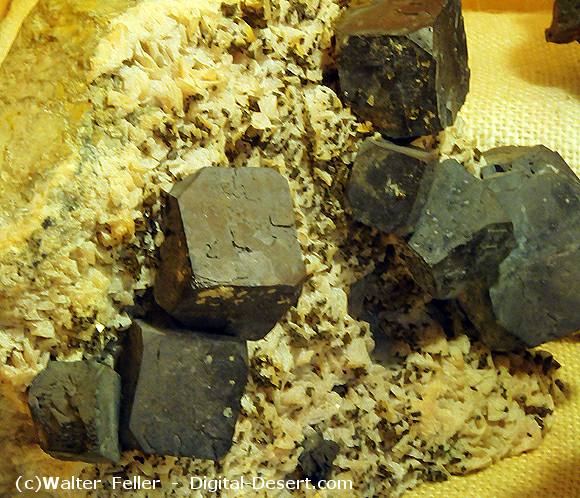 Galena is the most common mineral containing lead, and has been well-known throughout the centuries. It is often well crystallized and forms in many interesting and distinct crystal shapes. Some cubic crystals have their edges cut by the partial octahedral growth, some octahedral crystals have their points flattened by cubic growth, and many crystals are found somewhat in-between cubic and octahedral. Dodecahedral growths may partially be found in octahedral or cubic-octahedral crystals, resulting in bizarre and interesting shapes.

Galena is a primary mineral. Most of the lead minerals, such as Cerussite and Anglesite are secondary minerals formed from Galena. Impurities in the structure of Galena, such as silver and bismuth, may change Galena's cleavage properties. Galena containing bismuth may exhibit octahedral cleavage, and silver in Galena may cause a specimen to exhibit flaky, slightly bent cleavage fragments.

Galena is by far the greatest ore of lead. The extraction process to remove the lead from the sulfur is very simple, thus lead has been extracted from Galena since the earliest times.

Galena from certain regions is rich in silver, and some specimens may contain as much as 20 percent silver. Because of this, silver-rich Galena is also an ore of silver. Another use of Galena was its importance in early radio devices.


<< - >>
Metallic Oxides




Localities

Keeler Smelter
Smelters were used to "roast" galena ore from the Cerro Gordo mines into bullion bars, approximately 18 inches long and weighing up to 65 pounds depending on the silver content. From here the silver was shipped across the Owens Lake on the steamer Bessie Brady to Cartago and then to Los Angeles or Bakersfield in ...

Death Valley Mine
Gold Milling and Mining Company (initially called Dawson Camp) was formed by the Dawson brothers. First opened in 1906, most production was between 1917 and 1921. The quartz veins contained argentite (silver sulfide) and galena (lead sulfide). Typical of ore bodies in arid climates, the silver at the ground surface was ...

Tecopa Mines
A 1,000 foot tunnel was dug to open a vein composed of galena at the surface and changing in depth to a carbonate ranging in value from $60 to $400 a ton, with an $80 average. Known as the Gunsight Mine, it is related to Turner's famous discovery in name only (Turner's discovery was supposedly much further north).

Lane and Grant File Claims at Ord Mountain
Mr. James Grant has just returned from a prospect in our mountains, some 35 miles southeast of Lane's Crossing, and discovered some seven ledges of rich silver, copper and galena, which he has sent this week for a working test to Los Angeles for assay. Thus, from day to day, our enterprising miners are opening up new ...

New York Mountains
Though apparently never seriously worked, the location of the Montezuma was still known in 1890, when James Crossman described it as : ďa strong vein, carrying an abundance of ore rich in silver, galena and carbonates of lead. Though but little developed, the camp possesses every facility for economical workings, wood ...