Southeast Death Valley Region
Shoshone Fossil Footprints
SE6. Location/Access:
It must clarified that these footprints are on private land, a short walk from "downtown" Shoshone. Therefore, the GPS coordinates are not given. Permission can be obtained at the Shoshone Museum (which has great copies of various prints) or sometimes from the main office next to the store across the street from the Museum.

Best Time: Any time, all year.



Geology: The surface shown is an volcanic ash bed of Pliocene age on the floor of a quarry (Chesterman, 1973; Hillhouse, 1987). The prints shown in the photo are horse prints but other species, such as those from the elephant family are a few feet away. There are other examples of mammal tracks in the vicinity (e.g.: Reynolds, 2001).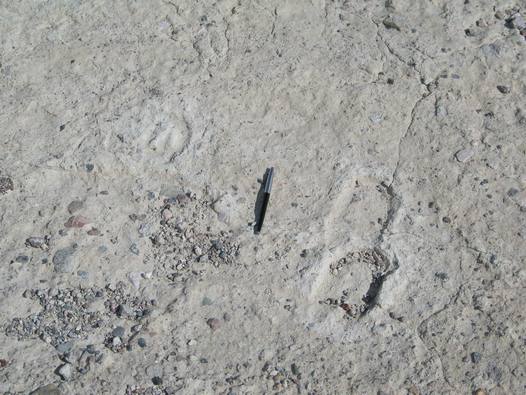 Pliocene horse tracks