Panamint Springs Area
Darwin Canyon/Faults
PS2c. Location/Access:
(36o 18.073'N, 117o 31.893'W) The best fault is located 0.2 miles further down the canyon from the unconformity. It is in the sediments in the left wall of the canyon.

Best Time: Afternoon, all year except mid-summer.



Geology: There are many faults that cut through the rocks in Darwin Canyon. Some are reverse and thrust faults probably related to the folding and uplift that produced the angular unconformity seen up the canyon from here. This large fault is normal and most likely related to Neogene extensional tectonics and not the compressional events manifested in the two previous stops. Note the folding of the layers along the fault zone indicating the motion of both the hanging wall and the footwall. These rocks are those that lay above the angular unconformity at the last stop.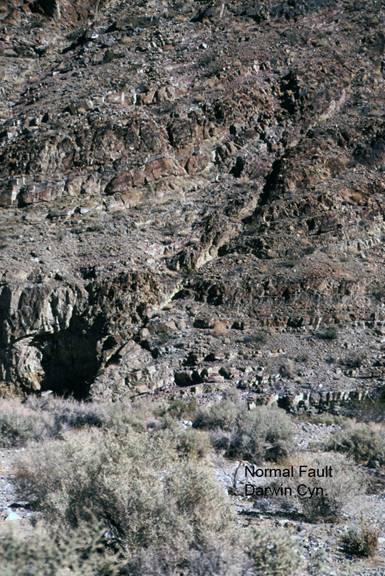 Desert Gazette Book Store