Panamint Springs Area
Darwin Canyon/Angular Unconformity
PS2b. Location/Access:
(36o 18.034'N, 117o 32.140'W) The angular unconformity is obvious on the north (left) side of the canyon 0.4 miles down canyon from the folds at Site PS2a.

Best Time: Anytime except mid-summer.



Geology: This remarkably clear textbook example of an angular unconformity is described in detail by Stone and Stevens (1988). The layers below the unconformity are the lower Permian Darwin Canyon formation seen at the folds up-canyon. The layers on top are Triassic marine deposits (and may correlate to similar age strata in Butte Valley) (Site SC5). The angular discordance of the unconformity is about 20o. The age of this unconformity has been quite well dated. The youngest fossils in the beds from under the unconformity are Wolfcampian fusilinids of the Panamint Springs member of the Darwin Canyon formation. The oldest fossils from the layers above the unconformity are Guadelupian (Capitanian) brachiopods and mollusks. This and other evidence indicates a late Leonardian age for the unconformity (Stone and Stevens, 1988), or an age of about 258 Ma in the uppermost lower Permian. Looking above and to the right of the unconformity, there are some faults within the sedimentary rocks. If you continue down the canyon to site PS2c, several hundred yards farther, these faults are more obvious.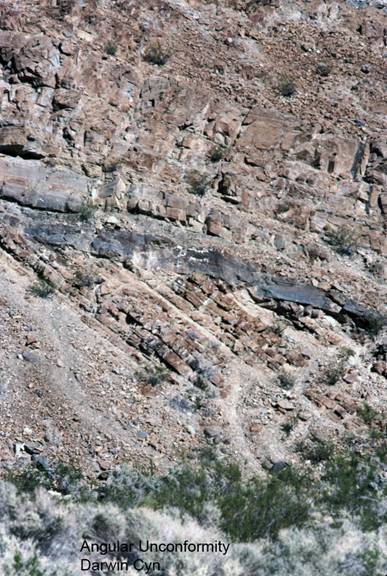 Desert Gazette Book Store