Panamint Springs Area
Darwin Canyon/Folds
PS2a. Location/Access:
(36o 17.644'N, 117o 32.126'W). Darwin Canyon can be easily (but not quickly) reached by traveling west from Panamint Springs on CA 190 to the paved turn-off to the town of Darwin. This turnoff is about 18.5 miles west of Panamint Springs. 5.8 miles after the turn, you will arrive in "downtown" Darwin. A left turn (east) in the center of town and then generally keeping left up the hill will bring you to a summit on a semi-paved road. This will continue down a very steep hill into Darwin Canyon whereupon the road will turn to gravel. After 4.0 miles from the center of Darwin you will come to a pump house (Miller's Spring). The next several miles have numerous geologic features that are very closely spaced. Any vehicle with high clearance can get to these locations and then back out through Darwin. To continue on this road back to Panamint Springs is much shorter but is much steeper, rockier and requires four-wheel-drive. The folds are located on both sides of the road 0.9 miles past the pump house.

Best Time: Anytime, all year but probably avoid mid-summer as there is no easy way out of here in case of mechanical problems.



Geology: These highly folded rocks are severely weathered and in some places the folding is not obvious. The folds are better on the south canyon wall. At the GPS coordinates given, look to the right and behind your direction of travel to see the best folding. These rocks are lower Permian in age and belong to the Darwin Canyon formation (Stone and Stevens, 1988). This folding probably occurred prior to the creation of the angular unconformity less than ˝ mile farther down-canyon. The folds are within a limb of a much broader series of folds that strike roughly north-south and are probably the result of incompetent beds giving way during the major compression that created the larger folds.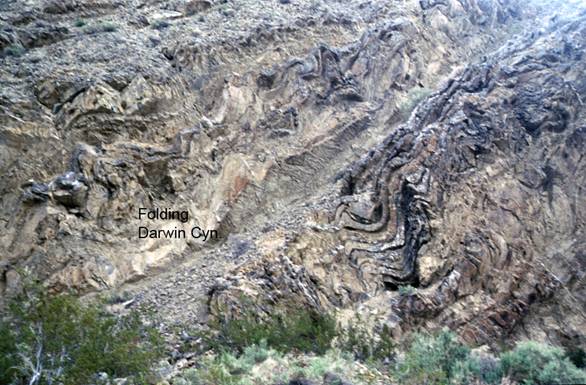 Desert Gazette Book Store