*** Official ***
Mojave River Valley Museum
BOOK STORE
Wildlife - Reptiles - Snakes
Desert Rosy Boa
Lichanura trivirgata gracia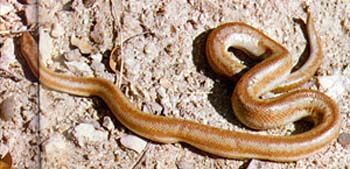 When speaking of the Boa family it may sound strange to hear of a member living in the Mojave Desert. We usually associate Boaís living in warm moist jungles to the south. This Boa is truly a member of the Boa family, however it doesnít reach the length of its cousins, being only about 2-3 feet long. Coloration may vary from slate gray to tan to pink but can always be identified by three broad stripes down itís back. The Rosy Boa has a very stocky and powerful body which it uses when squeezing itís prey. It also has very smooth scales and vertical pupils. The Rosy Boa is not an egg layer, and when born, the young are 6-15 inches and very susceptible to danger. It may be found in moister areas of the Mojave Desert near springs or permanent streams. The snake hunts in the early evenings and night for small mammals and birds.
Desert Riparian Habitat
Desert Riparian habitats are characterized as dense groves of low, shrublike trees or tall shrubs to woodlands of small to medium-sized trees. These habitats are found adjacent to permanent surface water, such as ...