Geology:
Rocks, Minerals & Ores

Metallic Oxides
Pyrite
FeS2
Peru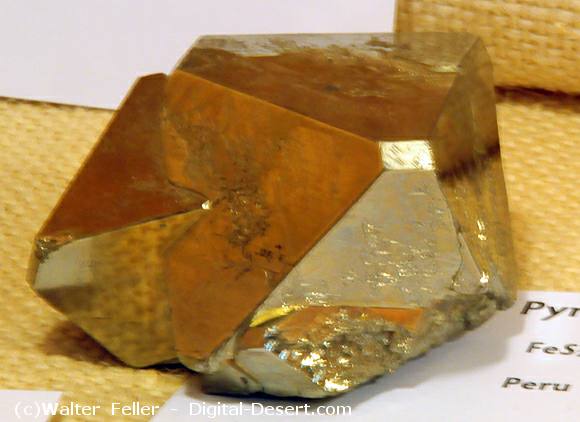 Pyrite is sometimes called Fool's Gold because of its similarity in color and shape to Gold. In the old mining days, Pyrite was sometimes mistaken for Gold, as they frequently occur together, although Gold and Pyrite can very easily be distinguished by simple observation and testing of characteristics.

Pyrite occurs in numerous shapes and habits. The smaller crystal aggregates may give off a beautiful glistening effect in light, and the larger crystals may be perfectly formed, including fascinating cubes, penetration twins, and other interesting crystal forms. The perfect cubes of Pyrite embedded in a matrix from the famous Spanish mines are especially treasured among collectors. Many of these specimens have fallen out of the matrix and have been repaired by having them glued back into the matrix.

Pyrite has the same chemical formula as the rarer mineral Marcasite, but it crystallizes in a different crystal system, thereby classifying it as a separate mineral species. Aggregates of iron sulfide (FeS2) where the crystal structure cannot be determined without complex analyzing material may be wrongly labeled by dealers. Some Pyrite specimens are labeled as Marcasite, and some Marcasite specimens as Pyrite.


<< - >>
Metallic Oxides

Rosalie Mining Camp
Sulfur, to charge the smelter, came from the Francis copper mine in the southern Providence Mountains and from Utah (Vredenburgh, 1996a). The assay house and pyrite from the dumps were removed by the EPA in late 1990s because of arsenic (arsenopyrite) with the pyrite. We are looking at the remains of the 1917 blast ...
Rock Types
The quartz is sometimes stained reddish brown from the weathering of pyrite, or fools gold. Pyrite is a common mineral in quartz veins and is sometimes associated with gold or other valuable minerals. Chemical alteration of the pyrite produces reddish iron oxides that stain the rock and serve the prospector as a clue that ...
Rosalie - Clark Mountain - Mojave Desert Mining History
Sulphur, in the form of iron pyrite for the smelter charge, was obtained from Jerome, Arizona, and from the Francis copper mine (another enterprise of Dr. L. D. Godshall), located on the southwest slope of the Providence Mountains. The Francis Mine shipped about 30 tons of copper-lead-silver ore a month to the Valley Wells ...
Rhyolite
The large abandoned mine at the junction operated from the late1980's into the 1990's. The heap leaching pile across the highway has only been inactive for a few years. The gold in these hills occurs in fissures and veins associated with calcite, quartz and pyrite in rhyolite tuff related to steep normal faults (Cornwall, 1972).