Grapevine/Northern Funeral Mountains (GF)
GF2. Titus Canyon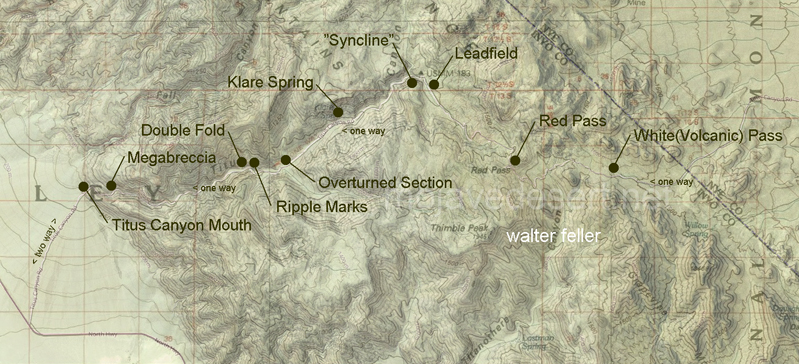 a. Volcanic/White Pass
En-route, you have driven over alluvial fan deposits of Quaternary age and once you entered the wash and low hills, you were traveling through ...
b. Red Pass
At the bottom of the upper reaches of Titantothere Canyon which you passed just before the long ascent to Red Pass, a skull of a Titanothere ...
c. Leadfield
There are indeed deposits of lead in the immediate vicinity but they are not of commercial concentration. ...
d. "Syncline"
What appears to be an asymmetric syncline within the Bonanza King formation is actually an optical illusion. The rocks are all ...
e. Klare Spring
Like many springs in Death Valley, this one issues towards the surface here because of a fault. The springs have also produced the travertine ...
f. Overturned Section
This is the Titus Canyon anticline. The fossiliferous shale near the coordinates is the Cambrian Carrara ...
g. Ripple Marks
While ripple marks are common in sandstone and shale, they are less common in limestone. Oscillation ripples are symmetric and ...
h. Double Fold
Remember that everything you are looking at is upside down because of the overturned nature of the entire ...
i. Megabreccia
The term "megabreccia" implies a rock composed of very large angular fragments. The large gray fragments are composed of limestone and ...
j. Canyon Mouth
This is a good place to note that the size of an alluvial fan depends primarily upon the square miles of drainage basin above the ...