Southeast Death Valley Region
Noonday Dolomite "Worm Tubes"
SE5. Location/Access:
(35o 48.750'N, 116o 05.020'W) From the junction of Furnace Creek Road and the Old Spanish Trail Road, 1.4 miles east of Tecopa, turn right on Furnace Creek Road and go a total of 8.0 miles. You will pass the turnoff to China Ranch and the road will slowly deteriorate as you head towards the Noonday Mine area. Just after passing the Western Talc Road, you will cross a cattle guard (this is at the 8.0 mile mark). Turn left up the deteriorating paved road and go 0.9 miles to reach the GPS coordinates.

Best Time: Anytime, all year.



Geology: These "peculiar tubular features up to several feet long, parallel to the bedding" (Wright, 1974) (see photo) in the lower member of the Noonday dolomite have variously been explained as filled worm tubes or organic degassing vents. If indeed, they are worm tubes, they are the oldest metazoan fossils in California. Just up the road is the War Eagle Mine. The dump has been prospected indicating it was a silver mine. The mine was still open last time we were there (2007) and you can see some good malachite on the walls and ceilings several hundred feet in. It is a very large mine but its safety is suspect. Lastly, from near the worm tubes, you can walk over to the saddle and get a good view of the Crystal Spring Canyon area of the Kingston Range, the type locality of the Pahrump Group formations which are all visible from this location.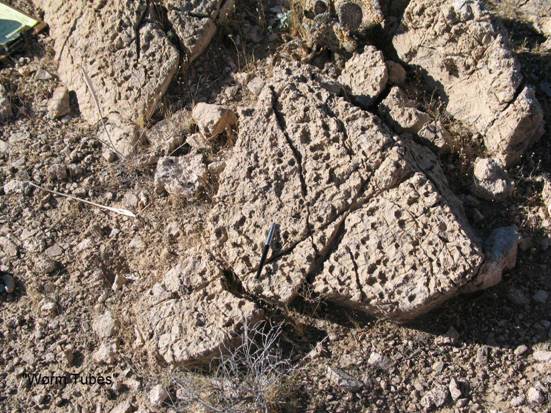 Noonday Dolomite
1,000 foot thick, 800 million years old. An erosion resistant dolomite deposited in ...
Crystal Spring Formation
1.2 billion ears old and 3,000 foot thick. This formation contains several rock types, ...
Kingston Range Wilderness
The Kingston Range forms 17 miles of continuous ridgeline above 6,000 feet, capped by the ...