Central Death Valley
Keane Wonder Mine
CD4. Location/Access:
(36o 40.150'N; 116o 54.561'W) The turn-off is 5.5 miles north of CA 190 on the Beatty Cut-Off Road. The dirt road to the right leads 2.7 miles to the parking area of the Keane Wonder Mill. The actual mine is a very long steep climb up towards Chloride Cliff (Site GF1) and is probably better accessed from there. Please note that in late 2008, the Park Service closed the Keane Wonder Mine area due to safety concerns.

Best Time: Afternoon, all year.



Geology: The Keane Wonder Mine produced about a million dollars of gold in the early 1900's. Much of the Death Valley region was prospected and mined for gold during this period but only a few areas such as Rhyolite to the east, Skidoo to the west and this site produced much gold. The mill sits on high grade metamorphic rock derived from the lower member of the Crystal Spring formation (Wright and Troxel, 1993). These rocks make up a significant portion of the lower plate of the Boundary Canyon detachment fault (Sites CD5a and b, and GF1). Included amphibolite was probably derived from the diabase sills (Sites FS1-3) and the marble from the limestone within the Crystal Spring formation. These rocks were probably metamorphosed twice: First and most strongly in the Cretaceous and less so during the Tertiary formation of the detachment (Labotka & Albee, 1988; Miller and Wright, 2004). From the mill site, there is a very good view of central Death Valley.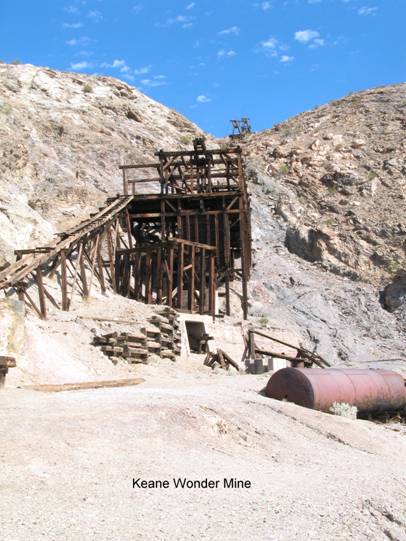 History of Keane Wonder Mine
In Dec. 1903, two men from Ballarat--one an out of work Irish miner named Jack Keane and his partner, a one-eyed Basque butcher named ...
Photos of the Keane Wonder
The peak years, 1907 through 1911, the mine processed nearly ...