Daggett, California
Stone Hotel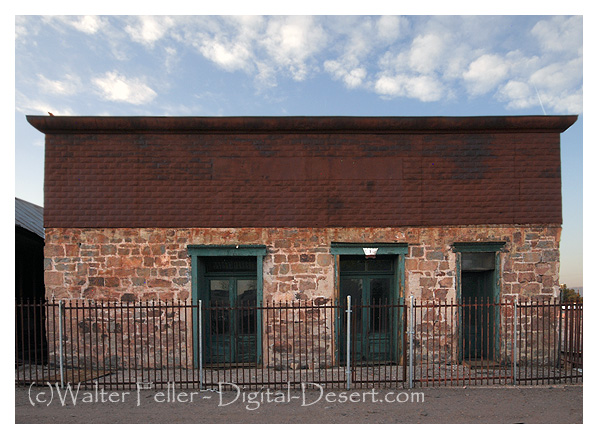 A stone hotel in Daggett that is now a registered landmark and under the direction of the San Bernardino County Museum. The building was erected around 1875 with two stories and with 2 foot thick stone walls for the first floor. There was a balcony on the second floor and a large glass dome above the two-story lobby. For several years since was known as the Railroad Eating House. In about 1883 it was operated by V. Van Driesen and in 1886 Seymour Alf was the operator. This was a favorite stopping place for Walter "Death Valley Scotty" Scott. It has survived three fires, the latest in 1908 which burned off the top story. The building has been closed for several years.

Mojave Desert Dictionary - P. Schoffstall - Mojave River Valley Museum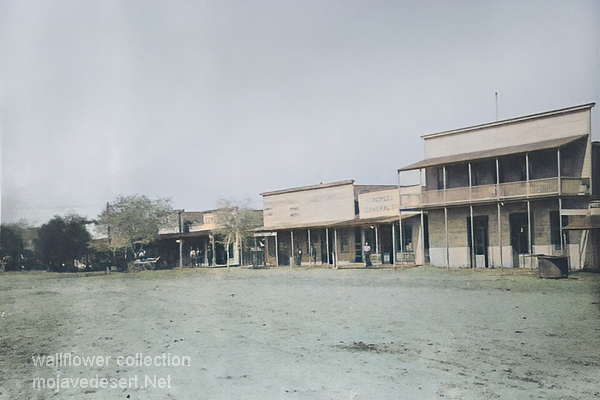 Daggett, Ca. circa 1902-04, note two-story Stone Hotel

The Stone Hotel in Daggett is a California Registered Point of Interest and under the direction of the Daggett Historical Society.

The building was erected in 1883 by Victor Van Briesen with two stories and with 2 foot thick stone walls for the first floor after the original building - a wooden Railroad Hotel and Eating House built by the Southern Pacific - burned down almost as soon as it was built. The first floor was the Eating House, and the 2nd floor served as the hotel. The stairway entrance to the hotel can still be seen as a single door off to the right of the two sets of double doors on the front of the building.

Van Briesen then sold the hotel part of the building to Seymour Alf in 1885, but kept the Eating House part which he converted into his Capitol Saloon advertised as "adjoining" the Railroad Hotel. The Saloon didn't last long and by 1886 it had become Alf's Railroad Eating House.

The hotel then changed hands several times probably due to a second fire. Meanwhile, Van Briesen built The Capitol Lodging House next to the ruins of his former hotel. The stone hotel was eventually purchased by Aaron Winters, discoverer of Borax in Death Valley who renamed it The Stone Hotel sometime around 1887, but then soon lost ownership of it in a sheriff's sale.

The hotel then burned for a third time in 1890, but was rebuilt moving the staircase to the center of the building, adding a balcony on the second floor, and a small glass sided turret with a glass dome roof above the 2nd floor, but no eating house on the first floor. It was renamed The Old Stone Hotel, and probably done under the ownership of Alex Falconer.

The turret was used to hold a lantern which was raised in order to create a beam of light seen all the way to Calico to advertise whenever Falconer received a new shipment of alcohol for his Saloon. This was a favorite stopping place for Walter "Death Valley Scotty" Scott who reserved a permanent room in the southeast corner of the building where the door that once led to the hotel staircase provided his own private entrance to his room. A forth fire in 1908 led to the top story not being rebuilt. The building has been closed for several years.


Teresa Terry and Caitlin Harvey. Historic Structure Report for the Stone Hotel, Daggett, San Bernardino Country, California. Daggett Historical Society, 2017.