Bear Valley
Big Bear, California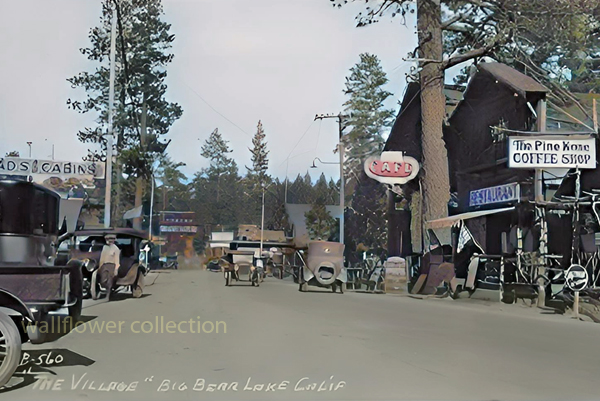 Big Bear, c.1920s (colorized)
---
The picturesque town of Big Bear, California, lies in the San Bernardino mountains. Its history dates back centuries, spanning Native American tribes, Spanish explorers, and the California Gold Rush.

The area that is now Big Bear was originally inhabited by the Serrano Indians, who named the region Yuhaviat, meaning "Pine Place." The Serrano people lived off the land, hunting game and gathering plants for food and medicinal purposes. They were deeply connected to the mountains and held spiritual ceremonies in the surrounding forests.

In the late 18th century, Spanish explorers arrived in the area, seeking to establish missions and claim land for Spain. However, the rugged terrain and harsh weather conditions of the mountains made it difficult for the Spanish to settle permanently in Big Bear. Nonetheless, they left a lasting impact by introducing horses to the Serrano people, greatly influencing their way of life.

The mid-19th century significantly changed Big Bear's history with the California Gold Rush. Prospectors flocked to the region for gold, hoping to strike it rich. While gold was not abundant in Big Bear, the area became a popular route for travelers and traders heading to other mining towns in Southern California.

In the late 19th century, the valley surrounding Big Bear Lake attracted settlers who recognized its potential for agriculture and logging. They established small farms and harvested timber from the surrounding forests.

Big Bear's popularity as a recreational destination grew throughout the 20th century. The construction of Big Bear Dam in 1884 created Big Bear Lake, which became a popular spot for fishing, boating, and swimming. The surrounding mountains provided ample opportunities for hiking, skiing, and other outdoor activities, attracting visitors from all over Southern California.

Today, Big Bear thrives as a year-round tourist destination. Its charming mountain village, stunning natural beauty, and wealth of recreational opportunities make it a popular getaway for outdoor enthusiasts and nature lovers. The town also hosts yearly events and festivals, further enhancing its appeal.


---
Big Bear Weather
Elevation: 6,717 feet
Lake Area: 7 miles long, 23 miles around
Estimated sunshine: over 300 days/year
Rainfall: Average annual rainfall is 35 inches at the west end of the lake, 25 inches at Big Bear City in the middle, and 15 inches in the east-end area.
Big Bear Lake