Click the photo to go to the interactive map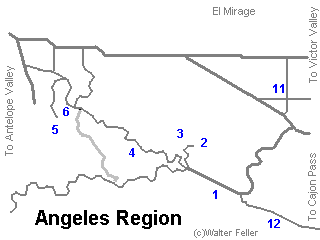 MT BADEN-POWELL
The Peak
Hanging around the peak of Mt. Baden-Powell. Elevation 9,399 ft.
Limber Pine Forest
Rare Limber Pines, ancient and enchanted trees that can only exist above 9,000 ft.
Lamel Spring
Small spring emerges from under a rock. Take a peek in and see where it's coming from.

PACIFIC CREST TRAIL

Mt Baden-Powell
Hike to the the top of Mt Baden-Powell with us. Four miles and over a half mile up along the Pacific Crest Trail from Vincent Gap.
Inspiration Point to Wrightwood
Hike along the trail from Grassy Hollow visitor center to above the community of Wrightwood
Guffy - Lone Pine Canyon
The trail from Wrightwood east to the Cajon Pass

Mt Islip - Cloudburst
(West/North - Canada)
Cloudburst - Mt Islip
(East/South - Mexico)

Cloudburst - Aliso Springs
(West/North - Canada)
Aliso Springs - Cloudburst
(East/South - Mexico)

Angeles National Forest Tours:

1 Wrightwood Village
Explore wrightwood and photo tour shops, galleries and lodging facilities.
2 Mountain Model
Table Mountain, totally interactive. Resort model and trail map. Ski many of the runs online.
3 Table Mountain Campground
Table Mountain is unique and beautiful. Dynamic views of the high desert including the peacefulness of the forest. Walk around the campground and enjoy this wonderful location.
4 Jackson Lake
Trout fishing and canoeing along with some mighty fine picnic spots are highlighted in this tour of a small San Gabriel mountain lake.
5 Devil's Punchbowl
Rock formation along the San Andreas fault. Quite different from the nearby forest.
6 Valyermo
Crossroads community and Ranger Station.
Vincent's Cabin
Secluded remains of 1870's cabin
Big Rock Creek
From Valyermo up the canyon to Vincent Gap at the trailhead to Mount Baden-Powell
Ball Flat
Interesting flats area.
Ski Sunrise
Photo tour of the Ski Sunrise ski resort. Slopes, lodge and lifts.
Mountain Bike Race
Mountain bike race photos from start to finish at Mountain High ski resort.