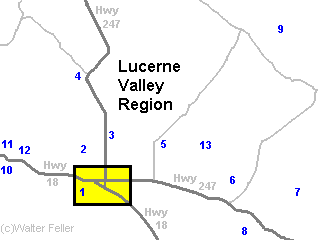 Feature Tours:

1 - Lucerne Valley Community Model
"There's not much stress in Lucerne Valley" - Come and visit downtown Lucerne Valley. Be sure you stop off at the Lucerne Valley website for detailed local information and history.
2 - Lucerne Dry Lake
Lucerne dry lake is an absolutely beautiful dry lake rich in color and nature. Experience the photo model.
3 - Highway 247, Lucerne Valley to Barstow
Continue the drive from downtown Lucerne Valley to Barstow
4 - Lucerne Valley Cutoff
Shoot, here's a dirt road, let's take it and see where it goes.
5 - Camp Rock Road
Mining road from Lucerne Valley to Barstow. Takes you way out in the middle of no where.
6 - Soggy Dry Lake
Photo tour of the dry lake with the mixed up name. Johnson Valley OHV area.
7 - Sand Dunes
Shifting sands provide a different perspective at this remote set of dunes near Melville dry lake.
8 - Old Woman Springs
Once a camp for indian woman and children while men went hunting in the mountains to the south. Now a private ranch.
9 - Petroglyphs
Indian rock art hundreds and hundreds of years old. Each petroglyph tells its own story
10 - Dead Man's Point ghost town
Private mock ghost town built in the fifties, which actually turned into a ghost town.
11 - Dead Man's Point rock formations
Incredible scenery and rock formations on this private ranch.
12 - Highway 18, Apple Valley to Lucerne Valley
Scenery along Highway 18 with a slight shortcut.